Students in Chef Bill Twaler's culinary arts program at Wando HS were recently invited by the local chapter of Les Dames d'Escoffier (LDEI) to assist in food prep and service at one of the organization's upcoming gatherings.
LDEI is an invitational organization of women leaders in food, beverage and hospitality whose mission is education and philanthropy.
But the upcoming event was not a typical local meeting, it was actually the LDEI National Conference that was being held in Charleston!

The students prepared special biscuits for the guests and assisted in other aspects of the food services required at the event.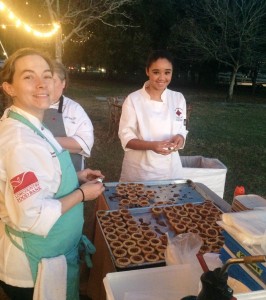 "We jumped at the opportunity for this work-based learning opportunity for the students", said Chef Twaler on the opportunity to partner with LDEI.
Students' & professionals' quotes from the event:
"After shucking 600 oysters I don't know if I'll be able to use my hand again," said Cliff Beilke.
"Chef this was so much fun I can't wait to do another function," said Brenden LaFave.
"Chef stop eating my desserts," said Azlynn Butler.
"(Your kids) they were wonderful!"  said Chef Susan Wigley.