MUSC Nursing Career Camp – June 22 – 24, 2016

The MUSC Summer Nursing Camp provides an introduction to the nursing profession through the use of interactive presentations, hands-on skills lab opportunities, and exposure to the healthcare environment.
15 Rising Seniors on track to be Health Science Completers will be accepted.
Applicants must be rising seniors in a current or previous health science or biomedical science program at a CCSD school.
Applicants must have have reliable transportation to and from the Medical University of South Carolina campus downtown Charleston.
Applications that meet the above criteria will be confirmed in the order they are received.
The Application deadline is May 13, 2016.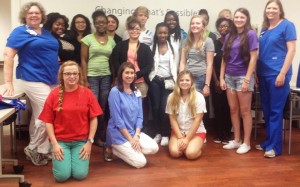 MUSC Nursing Career Camp participants and their councilors from summer 2015.
See highlights from last summer's camp here. 
---
FAQs:

Course Dates and Times:
June 22, 2016 – 9:00 am – 3:00 pm
June 23, 2016 – 9:00 am – 3:00 pm
June 24, 2016 – 9:00 am – 3:00 pm
(Closing ceremony starts at 2:00 pm, parents welcome to attend. Additional information will be provided)
Cost:
There are no costs or fees associated with the MUSC Nursing Camp. Lunch will be provided each day.
Location:
Campers will meet on the first floor of the Main MUSC Hospital Lobby each day. The physical address is 171 Ashley Avenue Charleston, SC 29425.
Map Link: http://www.muschealth.com/maps/171ashleyavenue.htm
Dress:
"Summer Casual". NO tank tops or short shorts. You may want to bring a light weight sweater or jacket as some rooms can be quite cool. You will not need Medical Scrubs for this experience.
Parking:
Campers that require parking will receive special instructions.
---