The North Charleston High School's culinary arts program recently hosted a practice event for the West Ashley High School ProStart team that will soon head to Dallas, Texas to compete in the ProStart 2016 National Competition.
Chef Jason Wheless and his state champion WAHS ProStart team ran through their entire process of food prep and plating. Chef Bill Twaler from Wando's Culinary Arts program was also on hand to offer support and guidance.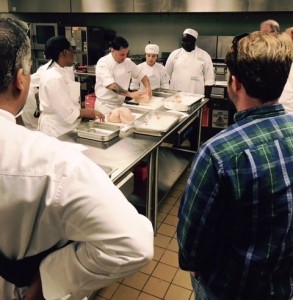 North Charleston HS culinary students are excited to start their competition journey next year at the regional event. They all volunteered to help clean the kitchen after the event."It was an awesome day for our students, and an experience they will not soon forget", said Chef Cindi Welsh who leads the NCHS Culinary Arts program.
"We are very thankful – This practice will help our team immensely as we look to bring home a ProStart national championship!" said Chef Wheless.
Thanks to Doug OFlaherty with South Carolina Restaurant and Lodging Association for organizing the opportunity for WAHS to practice prior to their trip!