Summer internship hosts, students, and their families gathered in the Burke High School auditorium on August 4th to celebrate the end of the Summer Internships working with various departments in Charleston County School District.
Each student received a certificate of completion and had the opportunity to share about their summer internship experience. Representatives from departments that hosted the summer interns also spoke about their experience working with students.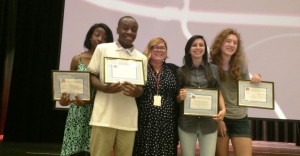 More pictures from the event:
Thanks to everyone that made this summer's CCSD internship program successful for 24 wonderful students from high schools throughout Charleston County School District!
Please enjoy this slide show with pictures from a summer packed with students enjoying work-based learning experiences.
;