Over 100 students from throughout Charleston recently competed in the 2017 SeaPerch Charleston Challenge at the Danny Jones Pool complex in North Charleston.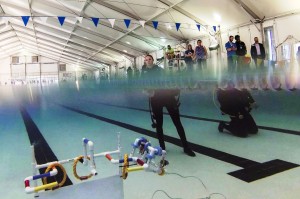 Teams from local high and middle schools designed underwater robots and competed with them in various challenges. Students were also judged on their poster and presentation skills, and an overall composite score determined the winner of the event for both middle and high school age students.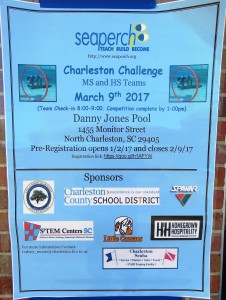 Local schools competing included:
Buist Academy MS
C.E.Williams MS for the Creative and Scientific Arts
Charleston Math and Science Charter School
Laing MS of Science and Technology
North Charleston HS
Summerville HS
Wando HS
West Ashley HS
Mr. Jonathan Zucker delivered an inspiring keynote message before the competition began. He reminded students about the vast amounts of the seafloor that remain unexplored, and the potential discoveries that await mankind as we perfect our underwater exploration equipment.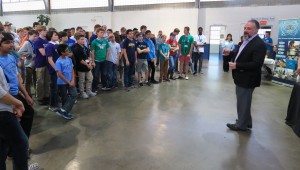 West Ashley High School brought home the overall 1st place trophy for the high schools division.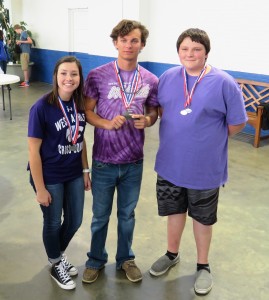 Students from Laing Middle School were the overall winner in the middle school division.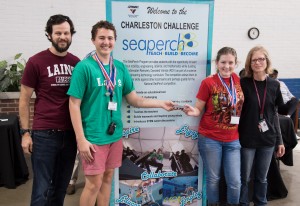 This event was made possible thanks to countless volunteer hours. Special thanks to the following list of leading sponsors of this year's Charleston SeaPerch event!
SPAWAR
Little Caesars
Charleston Scuba
STEM Centers SC
NOAA
Homegrown Hospitality
City of North Charleston – Recreation Department
Charleston County School District Science Department, and many others!

CCSD K-12 Science Curriculum Specialist Rodney Moore led the planning efforts and day of event coordination for this event.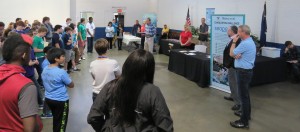 Thanks to EV Bell, Marine Education Specialist  with SC SeaGrant Consortium for her remarks as closing speaker at the event!
FINAL RESULTS
Middle School Division: Overall winner to Nationals Laing MS Team # 6
Engineering Notebook
1st- Laing Ms #6
2nd- Buist MS # 13
3rd Laing MS # 5
Obstacle Course
1st- Laing MS #6
2nd Buist MS #13
3rd Buist MS #21
Puzzle Challenge
1st- Buist #21
2nd tie Buist MS #21, Laing MS #6
High School Division over all winner to Nationals West Ashley HS Team #17
Engineering Notebook
1st- West Ashley HS #17
2nd- Charleston Charter for Math & Science # 2
3rd- Charleston Charter for Math & Science # 18
Obstacle Course
1st- West Ashley HS # 17
2nd- West Ashley HS # 7
3rd- Wando HS # 3
Puzzle Challenge
1st- North Charleston HS # 24
2nd – North Charleston HS # 23
3rd- North Charleston HS #20
Please enjoy these additional pictures from the event: