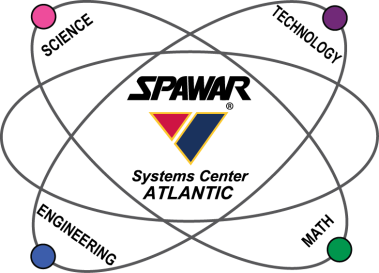 SPAWAR Systems Center Atlantic held its annual "Day at the Lab" on February 28th. Middle and high school students from throughout the Charleston region were invited for a behind the scenes tour.
Students were welcomed by Rear Admiral Lewis in the Command Briefing Theater. He described the many high demand, high wage STEM career opportunities in both military and civilian positions right her in Charleston.
Students got to participate in activities like an Electrical Engineering Exercise using Snap Circuit Kits and an introduction to algorithms using a Rubik's Cube.
Students also got an extensive facility tour including stops in the Anechoic Chamber, the Environmental Testing Lab, and the Digital Forensics Lab. They also got to see the Multidisciplinary Research Center (MRC) as well as climb the stairs to the the Air Traffic Control Tower Simulation Lab.
High school students enjoyed a special session on internship opportunities in Charleston and similar facilities throughout the country.
The students came back together in the end for a pizza lunch and a debriefing session with the amazing SPAWAR volunteer team that helped make this work-based learning experience possible!
Thanks to everyone at SPAWAR for hosting students from the Charleston region for the Day at the Lab event, and for investing in our future homegrown workforce!
Participating CCSD middle & high schools included: 
James Island Charter High School
Moultrie Middle School
North Charleston High School
St. Johns High School
Wando High School
West Ashley Advanced Studies Magnet School
Thanks to Justin Johnson from North Charleston HS and Tralice Reddock from the CCSD CTE Support Team for serving as chaperones for the participating CCSD students.