Students in Chef Kim Ortego's Culinary Arts CTE Program at Military Magnet Academy were treated to a visit from a celebrity chef from Latvia on Tuesday, March 28th!
Chef Karlis Visockis provided an interactive cooking demo focused on European cuisine.
Stephen Wyatt with the CCSD Department of Communication put together this amazing INTERACTIVE PHOTO GALLERY  showing the unmistakable impact the project-based learning experience had on the participating culinary arts students.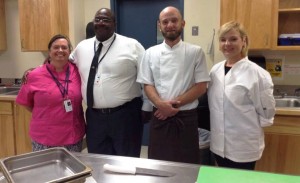 Special thanks to Chef Ilze Astad, Chef Karlis' sister for organizing this experience, and for all she does as a strong business partner for Military Magnet Academy. Mr. Townsend, Military Magnet Academy Principal welcomed the Chef Karlis in the classroom.
Thanks to MMA Culinary Arts instructor Kim Ortego for all her hard work in hosting this opportunity for her students!
Here are more pictures – thanks to Amy Bruson, CTE Department Chair at Military Magnet Academy for sharing the pictures she took to add to this gallery: