On Saturday, October 22, over 30 middle school students interested in STEM professions spent the morning with engineers from Clemson University for a very special EMAG!NE event at the SCE&G Energy Innovation Center at the Clemson University Restoration Institute on the former Navy Base in North Charleston.
Bradley Putman, PhD, an Associate Professor at Clemson and director of the EMAG!NE program served as the leader for the day's interactive activities and facility tour. Graduate students, local educators and volunteers assisted and parents were invited to stay and "play along" in the interactive STEM themed activities. Students were recruited through the CCSD science department  led by Rodney Moore, and over 30 local students and parents participated.
The goal of the day was for students to learn about engineering and the opportunities of careers in STEM (science, technology, engineering, and math) fields. The students participated in a variety of  activities designed to promote creativity and critical thinking skills through hands on learning.
Students were challenged to program an Ozobot robot to meet specific challenge criteria.  The code was drawn with a series of color combinations representing commands.  The students enjoyed drawing the tracks the robots followed.
In another activity, students were placed in teams and instructed to design and build a device to launch a small ball a specified distance to hit a target using a variety of crafting materials. After the designs were tested and modified several times, the students competed to see which design could hit the target most consistently.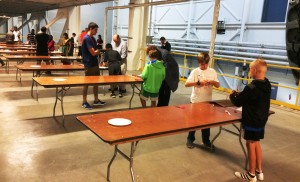 Everyone enjoyed pizza for lunch and also got to take a facility tour.
Thanks to everyone that made this very special event possible for students!