"The field trip was a great success!", Ms. Shekema Hamm said after her students from Daniel Jenkins Academy got a behind the scenes tour from top to bottom of the Belmond Charleston Place Hotel from Mickey Bakst, General Manager of the Charleston Grill.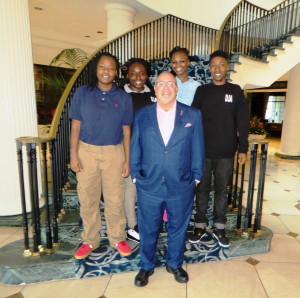 Mr. Bakst greeted the students in the grand hotel's lobby and spent some time getting to know them before the multi-stop tour commenced.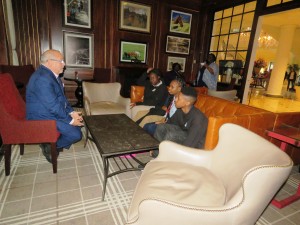 Students got to see the amazing facility up close with Mickey's expert explanation of what it takes to make each space 5 star –  students saw:
An example of a guest room suite
The exclusive club room
The luxurious spa
The indoor pool
The convention and banquet rooms
The amazing kitchen
And the award winning Charleston Grill restaurant
Students got to meet many of the employees also. Each said that they loved their job and shared their length of employment, most having been with the company for 20 or more years!
Students even saw a celebrity at the pool, one of the teachers that was in all the Harry Potter films! Mickey explained he was there under an alias name, but he generously greeted the students.
Ms. Hamm said , "Mr. Bakst was extremely down to earth as he shared his realistic viewpoint on life. He shared his story of being homeless, dropping out of high school, completing his GED, not finishing college and then working his way to success. He said the key to success was to come to early everyday and work hard. He said that the students should never say that "there are no jobs or "I can't make more money."
Ms. Hamm shared that Mr. Bakst had the students look down from the spa on the landscape of downtown Charleston and say out loud "I want this life and I believe that I can have it."
Ms. Hamm shared that after the trip, several students said they definitely want to pursue a career in culinary arts in a hotel environment. Mr. Bakst encouraged the students to apply for a position on their 18th birthday.
Thanks to everyone that made this work-based learning opportunity possible for these students, especially Mr. Mickey Bakst.