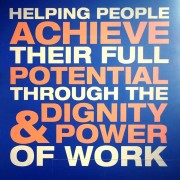 Student in Ms. Amanda Dukes' Computer Technology program at Burke High School recently visited Palmetto Goodwill in North Charleston.
"Manish Mazyck, Director of Workforce Development at Goodwill, and her team gave us an interesting & "real talk" presentation about professionalism in the workplace and in job interviews" Ms. Dukes said of their visit.
"She showed the various ways Goodwill can help job seekers prepare & train, and gave us a tour of the facilities." Ms. Dukes added.
The students were thrilled that Goodwill also provided each of them with $35 vouchers to shop for professional attire in the Goodwill Shop. Students left with some great finds, and plan to use them in their  mock interviews with Mount Pleasant Waterworks coming up soon.
"The students and I think this was an invaluable experience, and one that will definitely help them in the long run", Ms. Dukes said of their visit. Thanks to the Palmetto Goodwill team for all they do for our community!