December 13, 2016 – Yonges Island, SC – Students from Baptist Hill Middle High School interested in working in the marine towing, rigging and welding industry got a terrific facility tour today at Stevens Towing Company.
The entire leadership team and many supporting team members welcomed the students to the ship yard. They shared stories of their path to Stevens Towing, and the family atmosphere that kept them there for most, if not all of their career. Many of the employees shared they were graduates of Baptist Hill High School, and had worked their way up in the company from entry level positions to senior leadership and tug boat captain responsibilities.
The students were given safety vests, glasses, and hard hats, and got to walk the active ship yard with senior team members sharing the details of each job.
Students were invited to apply for a paid spring semester internship in one of three specific areas of the business: Mechanic, Welding, or Rigging.  More info HERE on the internship opportunity.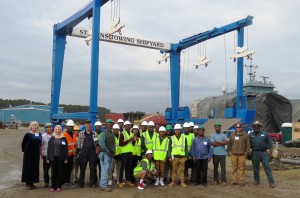 Thanks to all that made this special opportunity possible at Stevens Towing, and to the Charleston Metro Chamber of Commerce for their support of this and many other work-based learning partnerships for CCSD students!