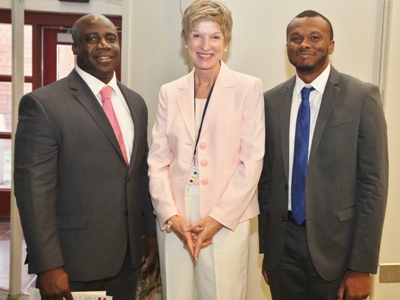 With 39 programs in 11 CCSD High Schools, the Charleston Metro Chamber of Commerce "Career Academy" initiative is kicking off the 15/16 academic year with strong partnerships for CTE programs throughout the district.
Thanks to all the terrific business partners that have agreed to invest their time and support in Charleston County schools!
Link to MORE INFO on Career Academies, including the list of business partners already committed to help.
Here is a list of the programs with Career Academy partnerships by school:
Academic Magnet HS
Baptist Hill MHS
Business Information Management
Garrett Academy of Technology
Lincoln MHS
Building Construction
Culinary
Lowcountry Tech Academy  
Military Magnet Academy
Culinary Arts
Computer Science
North Charleston HS
Engineering
Graphic Design
Culinary Arts
Health Professions
Law Enforcement
Business
St. Johns HS
Charleston School of the Arts
Fashion Design and Apparel Construction
R. B. Stall HS
Engineering
Health Professions
Wando HS
School of Mathematics Science and Engineering
School of Business and Information Systems
School of Arts and Humanities
School of Health Human and Public Services
Agriculture, Food and Natural Resources
Business Information Management
Arts and Communications
Government and Public Administration
Manufacturing
Finance
Education and Training
Health Science
Science, Technology, Engineering and Mathematics (STEM)
Hospitality and Tourism
Human Services
Transportation, Distribution & Logistics
Information Technology
Law, Public Safety, Corrections & Security
Marketing
West Ashley HS