February 13, 2017 – Charleston, SC – 25 students from West Ashley High School got to shadow City of Charleston municipal professionals for a "Day in the Life" experience. 
They arrived with their chaperones Ms. Melissa Sparks and Ms. Bridgette Butler early Monday morning at City Hall, and quickly took their seats in the historic City Council Chambers.
They got to hear several interesting stories about the chamber from the docent, Ms. Lindsay Barrios including the single Edison light bulb still in place and the amazing story of the portrait of George Washington in Charleston featured behind the podium.
Then, they were welcomed by City of Charleston Mayor, John Tecklenburg. He spoke on the value of the opportunity of job shadowing and thanked the City of Charleston team members for their willingness to invest in students.
Students were them connected with their host departments and departed to begin their work-based learning experiences.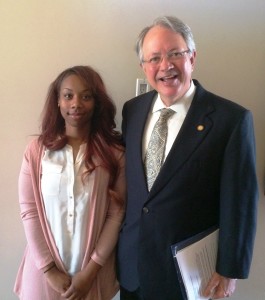 Host departments included:
Police Department
Fire Department
Recreation Department
Old Slave Mart Museum
Human Resources
Housing & Community Development
Parks Department
Technology & Business Development
Information Technology
Mayor's Office of Children, Youth and Families
Municipal Court Judge
Mayor's Office
After the morning of job shadowing, students and their host met for a special luncheon at the Maritime Center.
The amazing day of work-based learning was organized by Jennifer Gorham with the Mayor's Office of Children, Youth, and Families.
Thanks to Jennifer, Mindy, and all the City of Charleston departments for making this event possible again this year.
Thanks to Mayor John Tecklenburg for welcoming the students to City Hall and attending the debriefing luncheon at the Maritime Center.