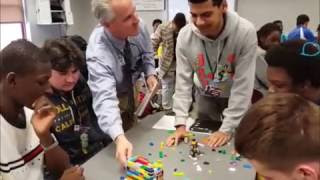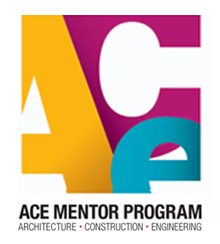 The following update was provided by Rob Turner with Charleston Engineering who serves as Chairman of the Board of ACE Mentors of Greater Charleston. 
The ACE Mentors are in full swing at all three schools this semester!
Check out this terrific video of students in Mr. Darwin Shorter's class at St. Johns High working in a Project-based Learning (PBL) activity with their ACE Mentors:
Harry Pecorelli of Stantec led the PBL exercise where the students formed teams, each with a project manager, to build buildings with Legos.  "The activity included a lot of curve balls and it is fun to watch them react to change orders and other project challenges", remarked Mr. Turner.
Thanks to all the amazing and generous ACE Mentors for investing their time at Burke HS, St. Johns HS, and R. B. Stall HS this year!
Burke High School
Co-Team Leaders:
LaShaun Key – Architect
Bobby Teachey – Construction Project Manager
Teacher of Record / Champions:
Michael Crosby
Roy Joe Kemp
Mentors:
Zach Aument – Architect
Laura Slagel – Architect
Jonathan Sigman – Structural Engineer
Michael Cunningham – Structural Engineer
Irving Fordham – Electrical Engineer
Jarret Hudson – Architect
Kendall Roberts – Architect
Bryan Shiver – Construction Manager
Chandra Jones – Construction Manager
Amanda Page – Mechanical Engineer
Victor Fallon – Mechanical Engineer
Sam Young – Electrical Engineer
DJ Coblentz – Electrical Engineer
R. B. Stall High School
Co-Team Leaders:
Ben Anderson – Architect
Wayne Butler – Architect
Teacher of Record / Champion: Kimberly Pickett
Team Mentors:
Mark Dillon – Structural Engineer
Zac Smith – Construction Civil Engineer
Todd Altman – Construction Manager
Tom Magee – Construction Project Manager (will float between both schools)
Steve Marek – Mechanical Engineer
Derek Hensley – Elec. Engineer
St. Johns High School
Co-Team Leaders:
Harry Pecorelli – Construction Manager (owners rep)
Allie Beck – Architect
Teacher of Record / Champion: Darwin Shorters
Team Mentors:
Sarah Glass – Architect
Mary Tran – Architect
Alison Dawson – Architect
Kelsey Powell – Structural Engineer
George Lee – mechanical sales
Aaron Smith – Construction Manager
Rob Turner – Mech. Engineer
William Snider – Electrical