Burke High School Senior Wins Top Award in Logo Creation Contest
The following CTE Success Story was provided by Mr. Micah Brown, Burke High School Digital Art & Design CTE Teacher:
Congratulations to Mateo Scott, 18 year old senior at Burke High School for creating an award winning graphic in a local logo design contest for NFP's "In Good Health Expo 2017."
NFP, an insurance broker and consulting firm based out of New York, chose Scott's design from 20 other participant entries to use for their conference branding.
Mateo Scott has been in the Digital Arts and Design program at Burke for two semesters. When NFP needed a logo for the expo, they decided it would be a good opportunity for the Digital Art students. A Career and Technology Academy Partner of Burke High School, NFP knew from working with Burke that our DAD students had talent, so they included them in the contest. The theme of the logo contest was wellness. "Mateo designed his logo in just two class periods," said Mr. Micah Brown, Digital Art & Design instructor.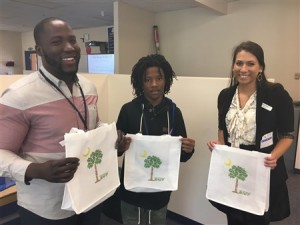 Burke High School students and staff are proud of Scott and his hard work and determination. Once again congratulations to you, Mateo Scott.