R. B. Stall Hosts Student Job Fair
March 12, 2015 – North Charleston, SC – R. B. Stall High School staged a job fair for students that included employers from throughout the region ready to interview and hire on the spot!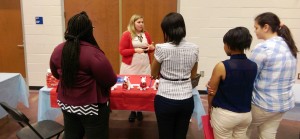 One of the event organizers,  Mr. Andres Casson provided this summary on the planning and execution of the job fair:
"Mr. Wilson has great insight in regards to the academic and social needs of our students. We made a decision early first semester to design a job fair after the career fair. We've had a lot of student express the interest/need for employment and sometimes our students just don't know how to initiate the search. We thought it would be ideal to bring the jobs to them.
We prepared the students throughout the week with information and academy lessons on resume building, application completions, career preparation, job interview skills and all the other peripheral skills. The employers arrived at
9:00 am
for sign in. They were given their packets and assigned their tables. Mr. Carrick addressed the employers thanking them for their participation. Students were then brought down in 3 different waves. Students were prepared with a folder with 10 copies of their resumes, a completed universal job application and a written good luck message.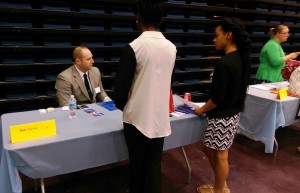 The students entered into the auditorium where they met with the employers and interviewed. employers gave out stickers for students who were impressive enough for a second interview. Those students were corralled into the Media center where they used the computers to complete online applications. Once all three waves were completed the employers met with the students selected for the final interviews. Some students were hired and most were called for interviews at the employers locations."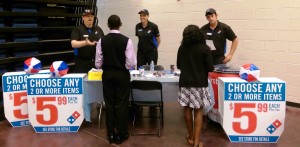 The participating employers included:
East Bay Deli (Dorchester, North Charleston)
Sonic
Chic-fil-A
Domino's (Multiple locations)
Old Navy
Gap
Target
Thanks to everyone that helped make this amazing opportunity possible for students at R. B. Stall High School!