Mayor Riley and City of Charleston Employees Host Job Shadowing Day for Students from Baptist Hill and St. Johns High Schools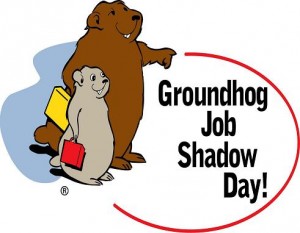 The City of Charleston Mayor's Office of Children, Youth and Families held their annual Groundhog Day Job Shadowing Event on Monday, February 2, 2015.
20 very excited and professionally dressed students from Baptist Hill Middle High School and St. Johns High School began their job shadowing day experience at City Hall on Broad Street downtown.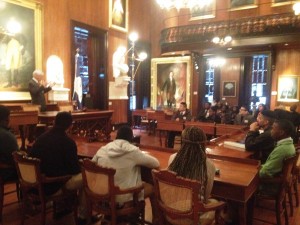 They gathered in City Council Chambers and learned about the priceless art and other historical items housed in the room. Then, they received a warm welcome from Mayor Riley, who also challenged them to maximize the educational opportunity to shadow a member of the City of Charleston team.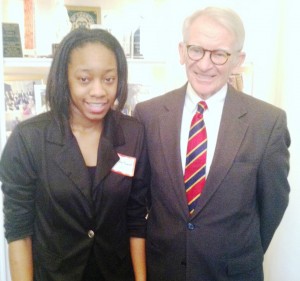 City Departments that hosted job shadowing students included Legal, Housing, Recreation, Police, Fire, Public Services, the office of Children, Youth & Families. And, one lucky student, Jerika Magwood from Baptist Hill Middle High School, got to shadow Mayor Riley!
After an excellent morning of job shadowing, the students and their hosts met for lunch at Sticky Fingers on Meeting Street to share about their experiences before heading back to their schools. All agreed that the Groundhog Job Shadowing event was a terrific opportunity for students to learn about the wide variety of careers available within municipal government.
Special thanks to Mayor Riley, and Katie, Mindy and Sarah with the City of Charleston Mayor's Office of Children Youth and Families for organizing such a wonderful day for these students. Thanks to all the city staff that hosted students. Thank you to the school faculty that enabled these students to participate in this day of excellent work-based learning. Thanks to Sticky Fingers for the use of your excellent meeting space and for the excellent service & food.
Several students agreed to provide testimonials on their experiences on video, but unfortunately there was a problem with the microphone, and only one video recorded properly. Here is a link to that video featuring Charleston Police Officer Harry Sosa and his job shadow for the day, Tevin Durham from St. Johns High School.