Students and educators from throughout the Charleston region were invited to get an in depth behind the scenes tour of the Space and Naval Warfare Atlantic Systems Center, known as SPAWAR in Charleston.
Each participant received a badge and detailed instructions prior to their facility tour; "there are top secret missions underway behind the gates" they were told.
The day included on site tours of the Vehicle Integration Bay, the Electromagnetic Environmental Effects Lab, and the Air Traffic Control simulation and training center, which also happens to include the Meteorology and Antarctica Remote Operations Facility, where air traffic is controlled for the the South Pole!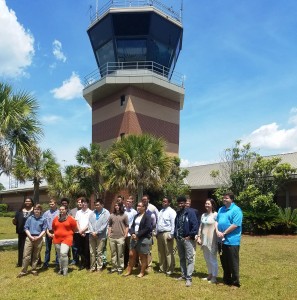 Commanding Officer Captain Scott Heller addressed the students over lunch and encouraged them to persist through college to be best prepared for the many career pathways available at SPAWAR and throughout the world, both for enlisted military and civilian contractors.
Special thanks to the event organizers team led by LaKeisha Williams and the wonderful SPAWAR education team.