CCSD Career & Technology Education programs empower students with 21st Century Skills for optimal college and career readiness. State recognized CTE programs are offered in every high school and grouped into 16 clusters based on a common set of knowledge and skills.
---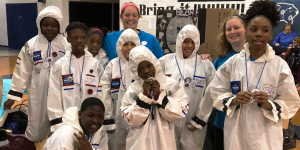 Students involved in middle & high school CTE Programs of Study are more engaged, perform better and graduate at higher rates.
The average high school graduation rate for students concentrating in CTE programs is 93%, compared to an average national freshman graduation rate of 84%
91% of high school graduates who earned 2-3 CTE credits enrolled in college.
Experts project about one-third of the 48 million job openings in the next decade will require an associate's degree or certificate, and nearly all will require real-world skills that can be mastered through CTE classes
---
Carl D. Perkins Career and Technical Education Act
Federal resources help ensure that career and technical programs are academically rigorous and up-to-date with the needs of business and industry. Learn more about the utilization of Perkins funds in South Carolina via the SC State Department of Education website.
---