April 6, 2017 – North Charleston, SC – Students in Ms. Shekema Hamm's Career and Technology Education class at Daniel Jenkins Academy received an extensive behind the scenes tour of a working hotel and convention hall thanks to Hope Hudson, Director of Human Resources for North Charleston Embassy Suites Hotel and Convention Center.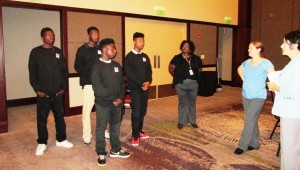 "Ms. Hudson was a terrific tour guide for this interesting and thorough exploration of jobs available in our local hotel industry", said Ms. Hamm.
Ms. Hudson also provided timely career advice for the students. She discussed two common errors with submitted applications; not knowing the position applied for, and listing relatives as references instead of professional references. She said that students in school should list their teachers or pastors as professional references. Most employees truly enjoy their jobs and have been employed at the property for 10+ years she said.
The following qualities are highly sought after in new hires according to Delis Britton, Assistant General Manager:
Dependability
Stable Work Experience
Positive Attitude
People Friendly
Team Oriented
Multi-task Well
Like a Fast-paced Environment
Delis Britton, Assistant General Manager, gave the students an inspirational speech on what it takes to be successful at Embassy Suites Hotel and Convention Center. Mr. Britton worked his way up from the front desk to his current position in management in 8 years.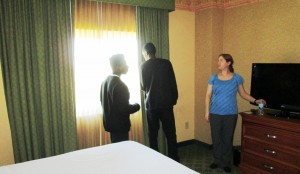 Students got to see each of the following essential spaces at the property, learning about the importance of each one:
Main Lobby
Guest Room
Convention Center
Banquet Rooms
Convention Center Kitchen
Hotel Kitchen
Administrative Offices
Hotel Laundry
Engineering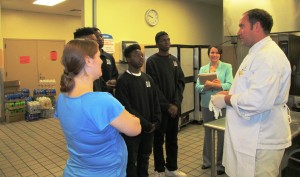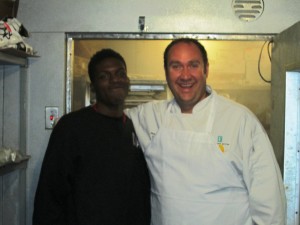 The students learned it only takes about 15-20 minutes to serve 100-200 people in a banquet room and about 10 wait staff, if done by experienced professionals like the pros at Embassy Suites. The prep work for banquets is always done a day ahead, and all fresh ingredients are used.
No food is wasted. Leftovers go to the local food bank and any waste goes into the compost bin to be recycled.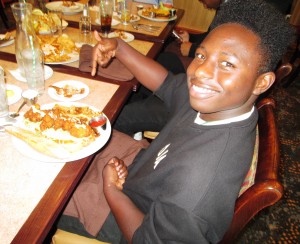 The hotel generously hosted the visiting students for a gourmet lunch. "The students were in awe at the culinary skills of the chef." said Ms. Hamm. Upon receiving his entree, Jaden Washington stated, "This is the best field trip ever!"
The students enjoyed an appetizer, entree, and dessert. Two students want a career in the local hospitality industry and are applying to work at North Charleston Embassy Suites Hotel and Convention Center this summer!