Charleston, SC – May 31, 2017 – Eight students from Ms. Shekema Hamm's CTE class at Daniel Jenkins Academy had a very special opportunity to experience first-hand several of the high demand career pathways available in Charleston's Hospitality & Tourism industry. The work-based learning experience began with a visit to the City Market – They met entrepreneurs selling their goods at one of our regions most famous landmarks.
Next, they were treated to a guided tour of the historic streets of Charleston by Palmetto Carriage Company. The tour guide shared his career path with the students which included stints in both hotel and restaurant operations. Special thanks to Mr. Thomas Doyle, Jr. and his terrific team for making this opportunity possible for these students.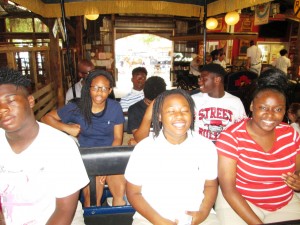 After the carriage tour, the students were treated to a special lunch at the Charleston Crab House! Thanks to Mr. John Keener and the wonderful Charleston Crab House team for hosting these students for a very special lunch.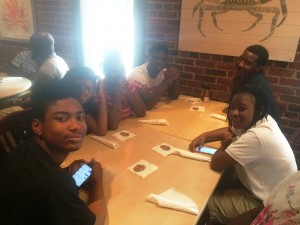 After lunch, the students walked around the corner to the front door of the Market Pavilion Hotel, one of Charleston's most luxurious properties.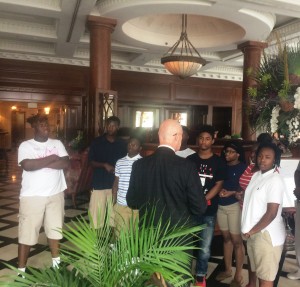 The students were greeted in the lobby by Mr. Peter Wright, General Manager of the hotel.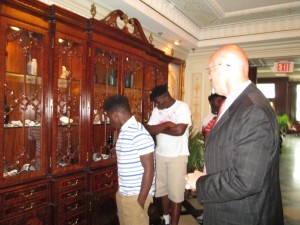 As the students entered, Mr. Wright highlighted a special collection of historic artifacts found on the site during the construction process; "It's hard to dig in Charleston without unearthing a part of history," he explained.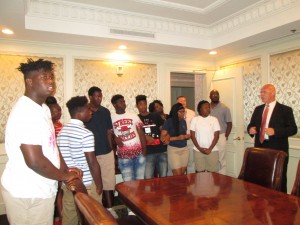 Students got to see their formal board room available for special meetings – Mr. Wright highlighted to audio and visual capabilities were hidden behind luxuriously appointed walls, but assured the students that all the tools needed for a modern meeting were present for their guests.

Next, the students got to visit the large ballroom and meet with several members of the hotel's staff including leadership from the Bell Staff, Concierge, and Event Planning teams. A highlight for the students and staff alike was when one of the students' family members joined the discussion. Mr. Wright recognized the student's uncle as a leader and sous chef for the world renowned restaurant at the hotel, Grill 225.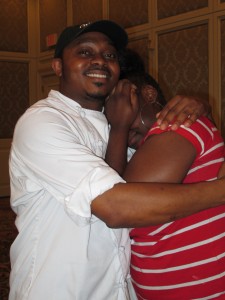 Students then got to see a working car lift in the garage, a rarity in Charleston, added to allow as many cars to be parked as possible for guests on multiple garage floors. An elevator ride to the top floor was next for a visit to the famous roof top pool area with panoramic views of the city.
The last stop on the tour was the property's Presidential Suite, which has been uitlized by two US Presidents and numerous other dignitaries and celebrities during their visit to Charleston. The students were impressed with the large suite complete with presidential portraits.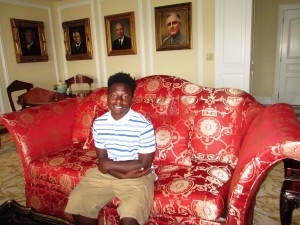 Very special thanks to Mr. Peter Wright and his team for hosting these lucky students, and for allowing them to see first-hand the level of quality and dedication it takes to operate an award winning hotel.