Baptist Hill Middle High School Hosts Interactive Career Day
March 11, 2015 – Hollywood, SC – Business partners from throughout the community invested their time this morning in Baptist Hill Middle High School classrooms.
Students moved through several rotations and heard from a variety of career day speakers. The event, organized by the BHMHS Guidance Department, allowed students in middle and high school grades to learn about a wide variety of careers and the steps each presenter took to achieve their success.
A common set of traits echoed in each classroom – Work ethic, finding your passion, and continuous life-long education.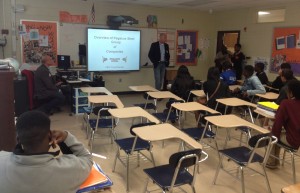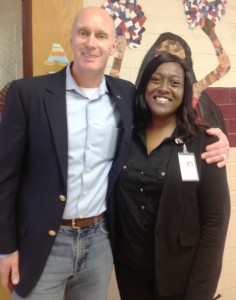 Tony Deering, CEO and President of Pegasus Steel advised students to read as much as they could, and strive to be the best in every position they will hold. "Today, there is more opportunity for young people than ever to earn success", Deering said.
At the wrap-up luncheon for career day speakers, school principal Ms. Kala Goodwine was surprised by a impromptu donation of $1000 from Sylvester Hester, Vice Chairman and Chief Operations Officer, Key Logistics & Global Automotive LLC.
Participating companies included: The Iron Yard, Floyd Brace, Charleston County Transportation, Verizon Wireless, Pegasus Steel, Boeing SC, SCE&G, St. Paul Fire Department, Charleston Riverdogs, Global Automotive, Marchant Chevrolet, Salon 331, National Guard, Marine Patrol, Food Lion, Key Logistics, CCSD Operations, and more.
Thank you to everyone that made this career day event at Baptist Hill Middle High School a terrific success today!