Military Magnet Academy Alumnus Returns to Speak with CTE Students about Entrepreneurship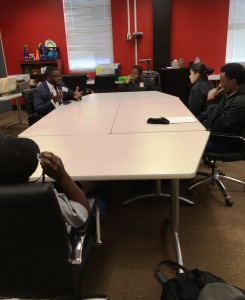 January 26, 2018 – Charleston, SC – This morning, a former Military Magnet Academy student, DeQuan Washington visited and spoke with students in Ms. Amy Brunson's class. DeQuan attended MMA 6 years ago and since, he has graduated from college and owns a business – True Hospitality Partners LLC, out of Atlanta, GA.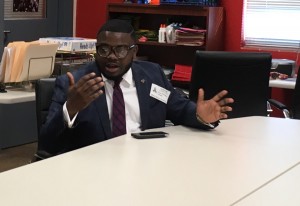 Mr. Washington's consulting business deals with revenue management for hotels throughout the U.S. and Canada. He shared with students how his week started with a client in Toronto and is ending in SC. He explained how he uses everything he learned in our business courses on a daily basis. In addition, he shared how everything his former MMS teacher Sgt. Mitchell taught him in ROTC – such as character, integrity, being truthful, going by the book, not cutting corners and being respectful – are aspects he applies to his business daily.
He ended his discussion by encouraging the students to reach for the stars and remember that the little things matter.
Special thanks to Mr. Washington for investing in the students at his former high school, Military Magnet Academy.