Military Magnet Students Earn "Fast Feet Shopping Spree" for Food Bank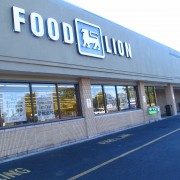 ---
Early on a recent Saturday morning, at 6:30 AM, 3 students from Military Magnet Academy and their culinary arts instructor Mr. Joseph Crompton arrived at The Ashley Crossing Food Lion store.
The opportunity to participate in a "Fast Feet Shopping Spree" at Food Lion was the prize for being in the top 2 in number of "likes" for their video supporting the 2014 Lowcountry Food Bank Student Food Drive. Stratford High School was the other school from the region that won the opportunity to be in the shopping spree.
The teams from each school got 90 seconds to push their shopping cart down the aisle and fill it with as many cans as possible. The students poured cans off the shelves.  "It was so funny to watch", said Mr. Crompton.  Students from MMA tallied 387 cans in their 2 carts! The food, along with everything else students collected leading up to the spree at their school, was all donated to the food bank.
After the shopping spree, the students got to set up a table in front of another Food Lion location to collect donations from shoppers.  MMA students collected 135 more pounds of cans in 4 hours!  "Since we are the defending small school champ's last year, we cannot take it easy." said Mr. Crompton on his students' success.
For more information on the 2014 Lowcountry Food Bank Student Food Drive, Click Here.