ACE Mentors Banquet Celebrates Student Achievement at R. B Stall HS, St. Johns HS, and Lowcountry Tech Academy

Students, parents, educators, and professionals from throughout the community gathered downtown at the Woolfe Street Playhouse to celebrate another successful year of ACE Mentors impact in CCSD classrooms.
The ACE Mentor Program connects Charleston area architects, contractors, and engineers with local schools for special project-based learning opportunities and field trips.
Three teachers welcomed ACE Mentors into their CCSD classrooms this year: Kim Pickett from R. B. Stall HS, Darwin Shorters from St. Johns HS, Michael Crosby from Lowcountry Tech Academy.
Each class came up with a project to design, and with the assistance of their assigned ACE Mentors, created detailed plans including material costs. Each student presented their part of the class project at the banquet. Check out the collection of pictures of their presentations in the gallery below!
The keynote speaker for the event was the Honorable John Tecklenburg, Mayor of the City of Charleston. He shared encouraging words for the students, and challenged them to continue their education to ensure Charleston's future work force will be prepared to keep up with construction demands. Mayor Tecklenburg also thanked the volunteers that make the ACE Mentors program possible in our schools.
Three CCSD students were recognized at the end of the event with $1000 scholarships to continue their education in college:
Abraham Montero – R. B. Stall HS
Danielle Newsome – R. B. Stall HS
Roxanne Archie – Lowcountry Tech Academy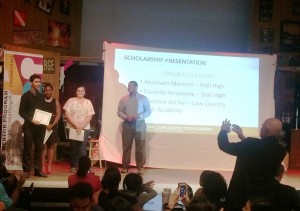 Thank you to Rob Turner, local chairperson of the Charleston ACE Mentors chapter, and all the generous ACE Mentors for their investment of time and talent in CCSD students this year!