R. B. Stall High School Stages Annual CTE Completer Breakfast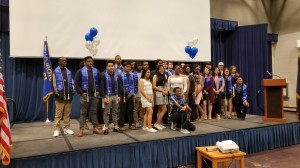 On Wednesday, April 24, 2018, The CTE Department at R.B. Stall High School led by Ms. Kimberly Pickett held a special breakfast event to celebrate students who have successfully completed Career & Technology Education Programs of Study.
The graduating class of 2018 frmo R. B. Stall High has 33 students that have earned the designation of "CTE Completer", having successfully completed 4 courses in their chosen CTE Major!
Students from the following majors were awarded their certificates and special "Completer Cords" to be worn at their upcoming graduation ceremony.
Digital Art & Design (4 students)
Early Childhood Education (3 students)
Marketing Communications (4 students)
Project Lead the Way (22 students)
Exemplary students were honored in each program area with the Top Completer Award and CTE Completer of the Year.  Thank you to the Family members, community business partners, and faculty members that attended to celebrate these resume building achievements with the students.