Wando Entrepreneurship Students Participate in Business Plan Competition
Students in Mr. Fralix's Entrepreneurship classes at Wando High School recently competed in the YEScarolina business plan competition.After all students pitched their business plans in their classes, three finalists per class were chosen to present in front of YESCarolina judges and staff. At stake were cash prizes and the chance to move on to the state YEScarolina event!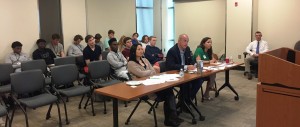 Results of the competition:
First Block:
First Place: Quinn Nisbet, Electron PC — $250 prize
Second Place: Mason Bernard and Huston Jones, Salt Water Wash — $150 prize
Third Place: Luke Panzerella, SC Custom Flies — $100 prize
Second Block:
First Place: Zach Ahearn, Step Off — $250 prize
Second Place: Samantha Kutcher Prepare4Work — $150 prize
Third Place: Chloe Santor,  Distilled Clothing — $100 prize
First and Second Place winners from each class will go on to compete at the State Competition at the College of Charleston on 
May 4th
.  Prizes at the state competition include $3,000 cash for first place, $2,000 cash for second place and $1,000 cash for third place.  First and second place winners also win an expense paid trip to New York this summer for five days and four nights.
"Congratulations to all students who presented and participated in the competition this week." said Mr. Fralix.