2023 TTC Youth Apprenticeship Signing Day
On July 25, 2023 The Charleston Youth Apprenticeships program celebrated its 10th anniversary as 63 CCSD high school students officially signed on as youth apprentices with 53 companies. Apprentices, employers and funders were recognized at the bigger-than-ever Signing Day event July 25.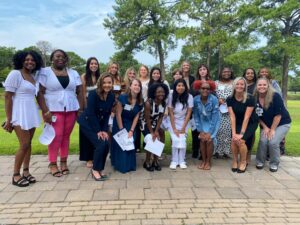 The Charleston Regional Youth Apprenticeship at Trident Technical College offer rising high school juniors, seniors and graduating seniors the opportunity to "learn and earn." Regional employers employ youth apprentices while they receive paid on-the-job training along with related classroom instruction at Trident Technical College. The costs associated with the youth apprenticeship college courses are covered by the program for students who are hired by participating companies.
Charleston County School District is thankful for our partnership with Trident Technical College and our regional employers and the funders of the program. Due to their support our scholars are able to take advantage of an invaluable experience that only sets them up for success.
We are extremely proud of the following students!
| | | | |
| --- | --- | --- | --- |
| Logan | Albert | Charleston Charter School for Math and Science | Boeing |
| Gregory | Veyber | Charleston Charter School for Math and Science | CMMC Machine Inc. |
| Carlos | Salas Sanchez | Charleston Charter School for Math and Science | Grand Bohemian |
| Krimson | Logue | Charleston Charter School for Math and Science | High Cotton |
| Jacob | Bodalski | Charleston Charter School for Math and Science | MUSC |
| Madison | Harkins | Charleston Charter School for Math and Science | MUSC |
| Christine | Johnson | Charleston Charter School for Math and Science | MUSC |
| Kyia | King | Charleston Charter School for Math and Science | MUSC |
| Karson | Sanders | Charleston Charter School for Math and Science | Rick Hendricks Dodge |
| Alaina | Johnson | Charleston Charter School for Math and Science | Roper St. Francis |
| Malaya | Failey | Charleston Charter School for Math and Science | SNOB |
| Yuridia | Hernandez Gil | Charleston Charter School for Math and Science | TRIDENT |
| Faith | Sprinkle | Charleston Charter School for Math and Science | TRIDENT |
| Jessica | Marin Lopez | Charleston Charter School for Math and Science | Trident Health |
| Melissa | Santiago Perez | Charleston Charter School for Math and Science | Trident Health |
| Charlotte (Taylor) | Gibbes | Charleston County School of the Arts | GRAZE |
| Giselle | Rattelade | Charleston County School of the Arts | MUSC |
| Jay | Pan | Charleston County School of the Arts | Pruitt Health |
| Leander | Holston III | Early College High School | College of Charleston |
| Gabrielle | Smith | Early College High School | Hall's Signature Events |
| Camille | Holmes | Early College High School | Peninsula Grill |
| Cameron | O'Donnell | James Island Charter High School | Embassy Suites by Hilton – Mt. Pleasant |
| Kevin | Kardell | James Island Charter High School | Heritage Plumbing and HVAC |
| Liam | Justice | James Island Charter High School | Mercedes |
| Soraya | Blake-Ladson | James Island Charter High School | MUSC |
| Ava | Sawyer | James Island Charter High School | MUSC |
| Alexis | Moore | James Island Charter High School | MUSC |
| Taylor | Youngblood | James Island Charter High School | Trident Health |
| Joshua | Wirth | James Island Charter High School | Zeltwanger |
| Henry | Welbourn | Lucy Garett Beckham HS | Magnolia's |
| Bianca | Olivetti | Lucy Garett Beckham HS | Roper Express Folly Road |
| Luke | Gormley | Lucy Garett Beckham HS | Smoak's Comfort Control |
| Jaquan | Hairston | North Charleston HS | College of Charleston |
| Brandon | Hernandez Gutierrez | R.B. Stall HS | MUSC |
| Maireni | Cano | R.B. Stall HS | Pruitt Health |
| K'Layah | Maxwell | St. John's High School | TRIDENT |
| Ryan | McIntyre | Wando HS | Hendrick Lexus |
| Christopher | Lee | Wando HS | City of North Charleston Police Department |
| Nathan | Houser | Wando HS | Hendrick Lexus |
| Santiago | Rivero | Wando HS | MUSC |
| Kateri | Quinlivan | Wando HS | MUSC |
| Lauren | Unthank | Wando HS | Roper St. Francis |
| Michael | Robson | Wando HS | TeamLogic IT |
| Jonathan | Lafortune | Wando HS | Volvo of Charleston |
| Zayden | Mauldin | Wando HS | VTL |
| Cameron | Craig | West Ashley HS | Bosch |
| Tyler | Bowen | West Ashley HS | Bosch |
| Chason | Parish | West Ashley HS | City of North Charleston Police Department |
| Jared | Rosenberg | West Ashley HS | Cullum |
| Ryan | Schaffer | West Ashley HS | Lincoln Electric |
| Sarah | Vaughn | West Ashley HS | Magnolias |
| Brandon | Clark | West Ashley HS | Metalworx |
| Kamarah | Abdur-Rahim | West Ashley HS | MUSC |
| Keangel | Powell | West Ashley HS | MUSC |
| Cheyenne | Sumter | West Ashley HS | MUSC West Ashley Medical Pavilion |
| Jason | Martino | West Ashley HS | Rick Hendrick Dodge on Savannah Hwy |
| Christopher | Burton | West Ashley HS | Rick Hendrick Honda |
| Hannah | Johnson | West Ashley HS | Roper St. Francis |
| Caroline | Lee | West Ashley HS | Roper St. Francis |
| Meaghan | Scheufele | West Ashley HS | Roper St. Francis |
| Alexis | Jordan | West Ashley HS | SNOB |
| Trevor | Sires | West Ashley HS | VTL |
| Kelvin | Gibbs | West Ashley HS | VTL Precision |