3rd Annual High School STEM Career Fair Highlights Youth Apprenticeships – 2000+ Students Attend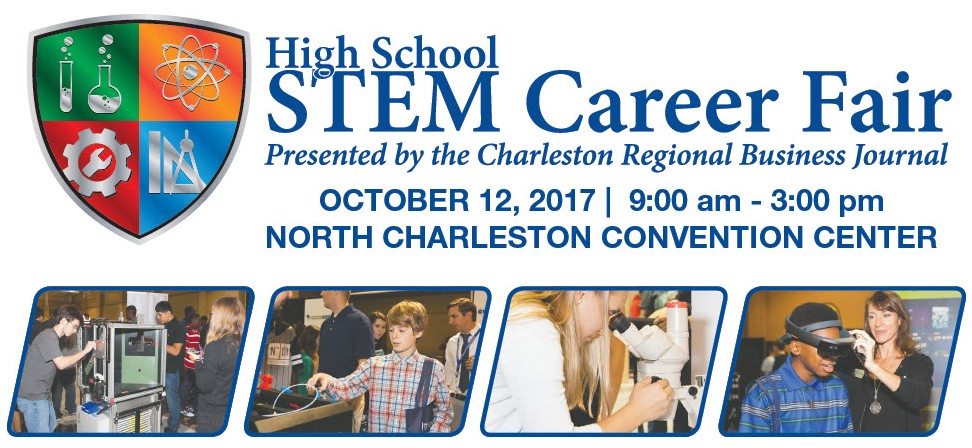 Over 2000 students arrived on buses from throughout the Charleston region, one after another – these students were chosen by their school to attend the 3rd annual STEM Career Fair at the North Charleston Convention Center October 12.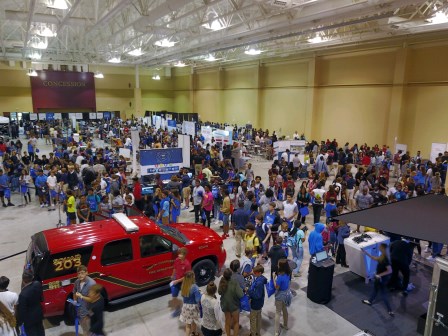 Students got to speak directly with professionals from companies keen on doing their part to develop the next generation of high skilled talent for the growing economy in the Charleston region.
Thank you to West Ashley Robotics for providing the wonderful video above! 
Hands on activities sparked conversations, and many students began professional relationships that could lead to a paid youth apprenticeship while still in high school!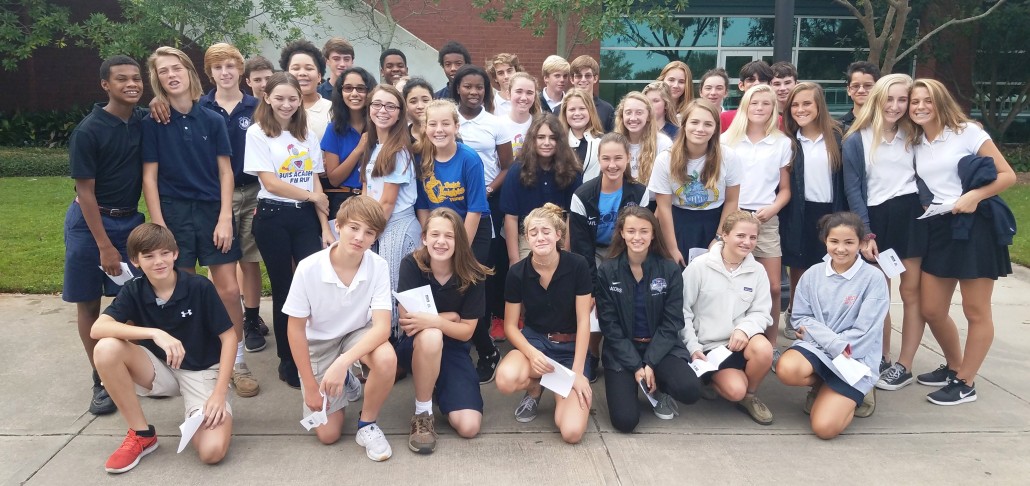 Check out the list of participating businesses and schools below, along with a ton of pictures from the event.
But before the students began arriving, the day started with a special breakfast and panel discussion aimed at businesses interested in joining the regions robust Youth Apprenticeship program.
Ms. Carla Whitlock with Apprenticeship Carolina was the moderator and the expert panel made up of David Hall, Operations Manager for Environmental Express, Inc., Mitchell Harp, Dean of Apprenticeships at Trident Technical College, Karen Winningham, Senior Human Resources Specialist with Robert Bosch Charleston, and Curtiss Schall, a current apprentice with Robert Bosch Charleston.
MORE INFO ON YOUTH APPRENTICESHIPS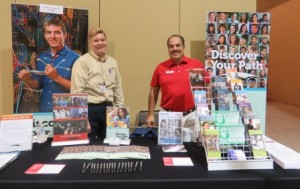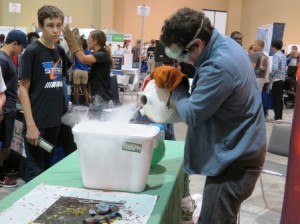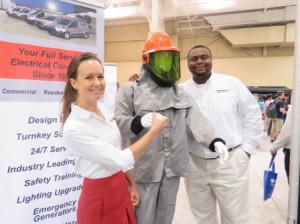 Thanks to the following businesses that invested their time to make the 2017 STEM Career Fair possible:
(Companies currently offering Youth Apprenticeships in cooperation with Trident Tech identified) 
Accutec Industries (TTC Apprenticeship)
Berkeley Electric Coop (and TTC Apprenticeship)
Blackbaud (TTC Apprenticeship)
Boeing South Carolina (TTC Apprenticeship)
Build Your Career / CAGC
Charleston County Consolidated 911 Center
Charleston County Government (TTC Apprenticeship)
Charleston County Parks & Recreation Commission (TTC Apprenticeship)
Charleston Dorchester Mental Health Center
Charleston Southern University
Choate Construction
City of Charleston Police Department
City of North Charleston City Planner
Cummins (TTC Apprenticeship)
Davis & Floyd
DC Machine (TTC Apprenticeship)
Embassy Suites (TTC Apprenticeship)
Floyd Brace Company, Inc
Greystar (TTC Apprenticeship)
Hendrick Automotive (TTC Apprenticeship)
Kiawah Partners (TTC Apprenticeship)
Leatherwood Manufacturing, Inc
MAHLE Charleston
Mediterranean Shipping Company
Mercedes-Benz Vans
MSC Mediterranean Shipping (TTC Apprenticeship)
Nephron Pharmaceuticals
National Oceanic and Atmospheric Administration
North Charleston Fire Department (TTC Apprenticeship)
North Charleston Police Department (TTC Apprenticeship)
Nucor Steel Berkeley
Pinnacle Construction & Directional Boring
Project HOPE
Robert Bosch (TTC Apprenticeship)
Roper St Francis (TTC Apprenticeship)
Safran Electrical and Power
SC Cyber
SC Society of Professional Land Surveyors
South Carolina Aquarium
SPAWAR Systems Center Atlantic
St Johns Fire Dept (TTC Apprenticeship)
STEM Premier
Stier Supply Company
Streit USA Armoring
TIGHITCO
Trane
Transworld, Inc Electrical Contractors (Apprenticeships Available)
Tri-County Cradle to Career
Trident Health (TTC Apprenticeship)
Trident Technical College (TTC Apprenticeship)
UEC Electronics
US Dept of Agriculture
Venture Aerobearings (TTC Apprenticeship)
Verizon Costomer Service Center
Volvo Car US Operations
Zeltwanger CNC Mfg LP (TTC Apprenticeship)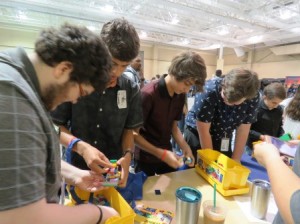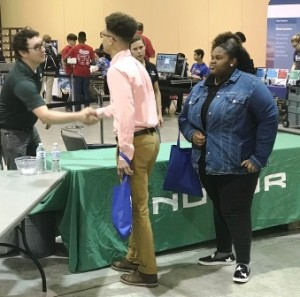 Check out this list of participating schools:
Academic Magnet High School
Baptist Hill Middle High School
Berkeley High School
Buist Academy
Burke High School
Camp Road Middle School
Cane Bay High School
Carver Bay Middle School
CE Williams Middle School
Charleston Charter School for Math and Science
Coastal Montessori Charter School
Cross High School
Cyber Academy of SC
Daniel Jenkins Academy
Dorchester County Career and Technology Center
Dorchester County Career and Technology Center, Trolley Road
Fort Dorchester High School
Garrett Academy of Technology
Georgetown Middle School
Goose Creek High School
Hanahan High School
Haut Gap Middle School
James Island Charter High School
Military Magnet Academy
Montessori Community School
Morningside Middle School
Northwoods Middle School
R B Stall High School
RB Stall High School
Rosemary Middle School
SC Whitmore School, Virtual School
St. James-Santee Elementary Middle School
St. John's High School
Stratford High School
Timberland High School
Waccamaw Middle School
West Ashley High School
West Ashley Middle School
Woodland High School
Zucker Middle School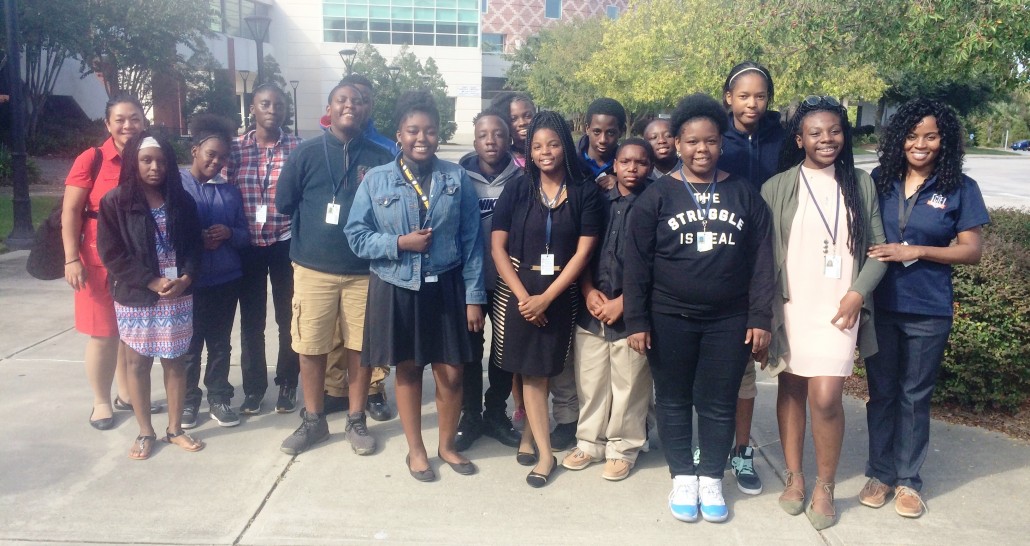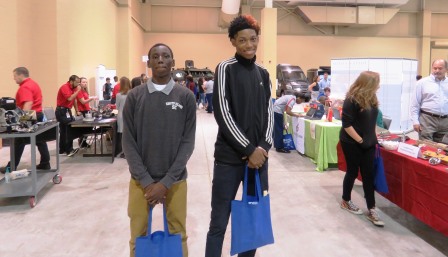 Mr. Tremayne Smith, an educator from Daniel Jenkins Academy said, "The Career Fair was a great opportunity for our students at Daniel Jenkins to experience the various career options in the workforce. The exposure also generated interest in areas that our students may have never experienced or even considered. It is rewarding to see their interaction with the employees of the various companies and the way they handled the conversation."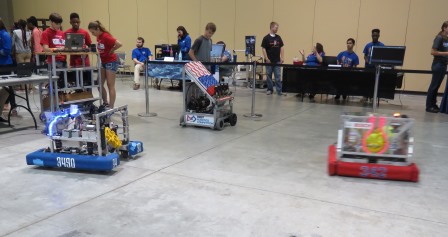 The event also included student led Robotics Team demos from:
Team 342: Fort Dorchester High School "Burning Magnetos"
Team 3489: Summerville/ Ashley Ridge High Schools "Category 5"
Team 3490: Cane Bay High School "Viper Drive"
Team 9623 West Ashley High School "WARP Drive"
Thank you to all the sponsors that enable this event to be staged at NO COST to our students – here are the event's lead sponsors:
Charleston County Economic Development
Nephron Pharmaceuticals
City of North Charleston
Trident Technical College
Charleston Regional Business Journal / SC Biz
Apprenticeship Carolina
Please enjoy these additional pictures taken during the event – Even more pictures taken by SC Biz staff member available here.