CCSD Students Participate in Charleston Regional Youth Apprenticeships Signing Day

On a beautiful morning in July, 56 students and recent high school graduates (including 26 from seven Charleston County School District schools), were honored at the 5th annual Charleston Regional Youth Apprenticeships Signing Day. Trident Technical College (TTC) and the Charleston Metro Chamber of Commerce host the celebration and lead the way on this innovative program.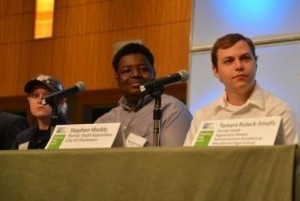 Students, graduates, business leaders, and other community members gathered at TTC's Thornley Campus (formerly known as Main Campus) for a breakfast, roundtable discussion, and signing ceremony. CCSD Superintendent of Schools, Dr. Gerrita Postlewait and two CCSD grads who participated in the Apprenticeship program, Stephen Maddy (West Ashley Class of 2016) and Byrone Porcher (Wando Class of 2017), were part of the panel.
After the discussion, the following CCSD students and recent grads signed their contracts/letters of intent (24 of the 26 were present):
Automotive
Magda (Iris) Guevara—St John's High School—Hendrick BMW
Tyler Spigner—West Ashley—Hendrick Dodge
Christopher Schmidt—Wando—Toyota N. Charleston
DM Smith—West Ashley—Hendrick Dodge
Zyaire Singleton—West Ashley—Hendrick Dodge
Bookkeeping/Pre-Accounting
Danielle Olivetti—JICHS—Greystar
CNA/Pre-Nursing
Makayla Walker—West Ashley—MUSC
Jasmine Chavis—West Ashley—MUSC
Culinary Arts
Cameron Dolan—Wando—Wild Dunes
Mackenzie Riley—West Ashley—SNOB
EMT
Brandon Borerro—West Ashley—NCFD
Walter Houk—Wando—City of Charleston FD
Engineering Assistant (PLTW) 2+2 track
Daryll Masanque—R.B. Stall—Boeing
HVAC
Nolan Nickels—West Ashley—Cullum
Kevin Ramirez Nunez—West Ashley—LimRic
David Chestnut—West Ashley—MUSC
Hotel Operations
Grace Earle—Charleston County School of the Arts—Wild Dunes
Harrison Naugle—Wando—King Charles Inn
Industrial Mechanics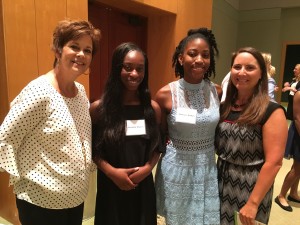 Reese Allen—Wando—VTL
Marcus Gore—West Ashley—KION
Alexander Simmons—Wando—VTL
Machine Tool Technology
Thomas Jur—West Ashley—PK Precision
Adam Koecke—Wando—Metalworx
Zayadul Islam—Garrett—Venture
Networking
Brian Hawkins—West Ashley—City of Charleston DOT
Programming
Joseph Marsey—West Ashley—Boeing
Through the Charleston Regional Youth Apprenticeships program, TTC connects qualified high school students with participating employers. The employers interview and hire the students, who then begin employment while taking high school and college courses. At the completion of the apprenticeships, students will have earned a high school diploma, a TTC certificate, a journeyman credential from the U.S. Department of Labor and two years of work experience.
All costs associated with the program, including tuition, books and most materials for apprenticeship-related courses at Trident Technical College, are covered while apprentices are working for a participating employer. Currently, there are over 120 business partners who have or are interested in hiring youth apprentices for the 2018‐19 academic school year.
Photo courtesy of Trident Technical College