City of Charleston Mayor Welcomes St. Johns HS Students for Annual Job Shadowing Day with Municipal Departments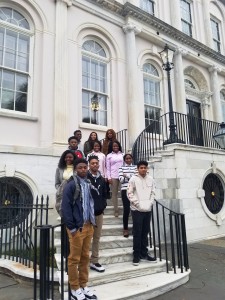 Students from St. Johns High School recently had the opportunity to shadow various departments in the City of Charleston.
This annual day of student job shadowing is organized by the Mayor's office for Children, Youth, & Families.
Students arrived at Charleston's historic City Hall and gathered in the City Counsel Chamber. Lindsey Barrios, City Docent shared the history of the many paintings and other priceless historical items in the chamber.
Mayor John Tecklenburg welcomed the students and challenged them to maximize their career exploration time with their host departments.
Following their job shadowing experiences, the students met at the City of Charleston Police Station for lunch and shared what they learned.
Thank you to the amazing team of municipal employees that make this job shadowing day a rich experience for students each year!
And, special thanks to Mayor Tecklenburg and Mindy Sturm for their leadership in making the event possible.