CTE Student from Burke High School Wins Statewide Logo Contest for Shred360
Charleston, SC – Mr. Micah Brown, Digital Art & Design CTE Instructor at Burke High School, encouraged one of his students to enter a logo design contest for Shred360, a paper shredding company based in Columbia.
Burke senior Hesham Hikal was the winner of this year's logo design contest, which included a $500 prize!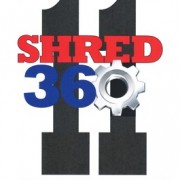 Over 1,000 entries were submitted for this year's contest, which is open to every student in the state of South Carolina. Hikal's design will be placed on the back of one of Shred360's trucks by the end of June, and will remain there until June 2019.
"It feels really good to be selected as the winner out of all those entries," said Hikal. "We have a great thing going thanks to Mr. Brown, and I hope this award shows what we are all capable of in this class, and at Burke."
Shred360 opened its doors 11 years ago, and has used this state-wide contest to determine their company's logo each year of operation. "It's an honor winning two logo competitions consecutively since the inception of the Digital Arts program here at BHS," Brown stated. "I look forward to the coming years and connecting with the community to enhance learning in this way."
Last year, a student from Mr. Brown's class won a contest sponsored by the local branch of the insurance brokerage and consulting firm, NFP. The business was looking for a logo to place on souvenir bags for a health expo in which they were participating.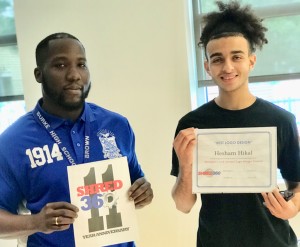 It is also noteworthy that Mia Washington, another Burke HS student in Mr. Brown's class,  finished in the top eight in this year's Shred360 competition.
Thanks to Shred360 for providing this terrific project-based learning opportunity for SC students!