R. B. Stall Health Science Program Visits Horizon Bay Assisted Living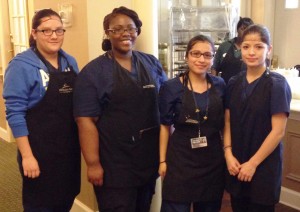 February 25, 2015 – Today, students in Ms. Erin Shiver's Clinical Studies program at R. B. Stall HS enjoyed an interactive visit to the assisted living and memory care units at Horizon Bay.
They learned that assisted living residents have their own individual living spaces (and vehicles if desired and appropriate) and their care can range from help with only meals to personal care. The students shadowed caregivers, interacted with residents and helped serve lunch.
The memory care unit provides in depth care for residents diagnosed with Alzheimers/dementia. This is the area that most students love and want to stay. The students are directly shadowing caregivers (medical assistants, physical therapists, nurses​, med techs, administration​ ) assisting with the patient transport and activities for brain stimulation​.
​Ms. Shiver said, "The impact from this experience was enlightening. I could see a sparkle in their eyes and a pep in their step​. My students were motivated and empowered to take action now in pursuit of their careers in health care. I was witnessing their future becoming their present as they asked for volunteer applications and schedules. This 2-hour experience was filled with more information and reality than they were expecting and I was gratified!"  "​They all dressed and acted the part; 100% dressed in scrubs and wearing ID's and carrying their clipboards and pens with their job shadowing worksheets attached", Ms. Shiver added.