Student Run School Store at West Ashley HS Reopens After Renovations
This week marked the reopening of the Cat Shack at West Ashley High School, the student run school store that offers logo apparel, snacks, and other items for students to purchase between classes and at lunch.
The students operating the store are overseen by Mr. Terry Stutts, the Marketing teacher and adviser for the WAHS DECA student organization. The Cat Shack's profits help students participate in DECA events at the local, regional and national levels.
The store recently got some welcomed upgrades, including a larger space and some new fixtures.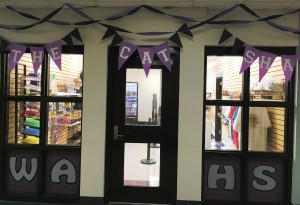 "The students welcomed the reopening of the store this week and sales were brisk – we're very thankful to have these renovations complete," said Mr. Stutts.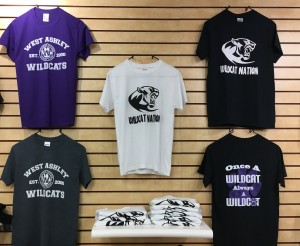 DECA President Haley Bauer provided the following overview of the Cat Shack renovation and the impact it will have on their efforts to raise funds for the Career and Technology Student Organization:
"The Cat Shack is owned and operated by West Ashley High School's DECA Chapter. DECA is a club that prepares high school students to be leaders and entrepreneurs is marketing, finance, hospitality and management. These students have the opportunity to take classes such as Marketing, Merchandising, Professional Development and Leadership, and Work-based Learning. All of these classes work together to manage and work in our recently renovated school store.
The Cat Shack now has new light fixtures, slat walls, display cases, and has been expanded. For the past month, employees have determined the store layout, merchandise, prices, and employees work schedule. Finally, everything has come together and the Cat Shack was opened on Wednesday, September 27th. All of the money earned from the store goes straight towards DECA needs. It is considered to be one of our biggest fundraisers. So. Wish us luck this year!"
The Cat Shack is well positioned for another great year of sales at West Ashley High School, but the real winners are the students that get to practice customer service and other skills prized by local employers!