West Ashley High School Hosts Wildcat Engineers Week
West Ashley High School Hosts Wildcat Engineers Week
West Ashley High students learn about careers in engineering Charleston, SC – From February 21-24, West Ashley High School hosted Wildcat Engineers Week, a week of opportunities for students to learn more about a career in engineering.
Founded by the National Society of Professional Engineers (NSPE), Engineers Week is designed to raise public awareness of engineers' positive contributions to quality of life and to encourage students to pursue a career in the field of engineering. According to their website, "More than a week-long event, Engineers Week is a year-round commitment to making a difference."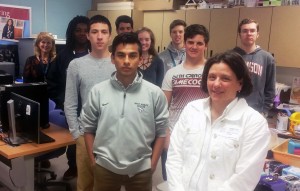 "The theme of this year's Engineers Week is 'Dream Big'," said West Ashley High Engineering teacher Dr. Barbara Leonard. "That's really the message we're trying to impart." Wildcat Engineers Week started with guest speaker Nancy Jenkins from the Army Corps of Engineers. Jenkins' presentation focused on architecture, what architects do, how to become an architect, and popular architecture projects. Jenkins presented to Dr. Leonard's Civil Engineering and Architecture students. She is a graduate of Middleton High School. "We want to engage students and to have students ask questions and learn as much as they can about engineering while they're still in high school," said Dr. Leonard. "I think engineering is a stealth profession."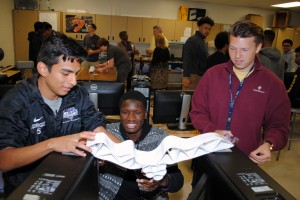 The next event included an on-site visit and demonstration from four Boeing engineers. Each engineer talked about his or her career path, the different planes they're working on, and then collaborated with the students to complete an activity. The students were divided into groups and had to make a wing of an airplane out of index card-size slips of paper and scotch tape. The wing was placed between two chairs while items like pencils, pens, and coins were placed on top of them to test the durability and strength of the wing each group created.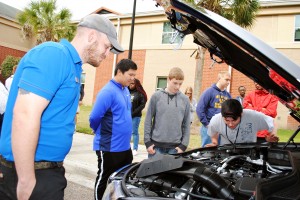 "The Ultimate Driving Machine," a BMW smart car, made a special appearance on West Ashley High's campus as well. Students were able to explore the interior of the car and learn more about the special engine under the hood.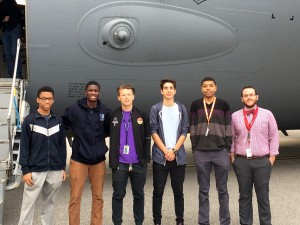 On Thursday, students went on a field trip to the Joint Base Charleston where they took part in a special Tuskegee Airmen presentation. While there, students listened to a presentation about the history of the Tuskegee Airmen, took a tour of all the C-17 training facilities on the base, and spoke with representatives from different colleges and aviation careers that set up tables in one of the hangars. Two Tuskegee Airmen were present during the festivities. Students from elementary and middle schools within Charleston County School District also attended the event. International orange, the color of engineering, was worn by many of those who participated in the week's events.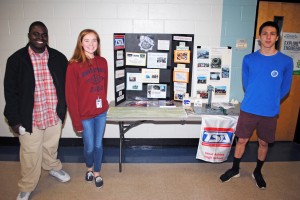 The final Wildcats Engineers Week event consisted of Dr. Leonard and Mr. Robert Stone's engineering students displaying their course projects in the Career and Technology Education (CTE) hallway. These creations impressed many attendees of West Ashley High and were the perfect way to demonstrate the impact that Engineers Week has on students.
Thanks to Donnie Newton, West Ashley HS Public Relations Coordinator for submitting this story.