Clemson Architecture Center Welcomes Students from Morningside Middle School
---
S

eptember 21, 2018 – Clemson Architecture Center in Charleston (CAC.C) hosted several groups of middle schools to their beautiful facility at 701 East Bay Street (Old Cigar Factory).
Mr. Glickman along with Ms. Rivers  chaperoned a group of Morningside Middle School scholars on a very unique field study.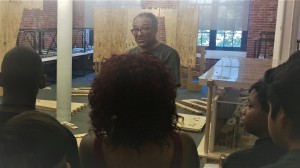 Mr. Ray Huff, Director and Associate Professor along with his team delivered an interesting presentation for the future designers that was both informative and interactive.  A group of very talented college students currently studying at CAC.C assisted also.
Morningside MS scholars received an overview of program offerings and opportunities at CAC.C, including a facility tour highlighted by a variety of work-spaces. One area was a mock up of a room currently being used for a research project that will help surgical operating rooms become more efficient for surgeons.  This was a great opportunity for the young scholars to see the future of operating rooms in person.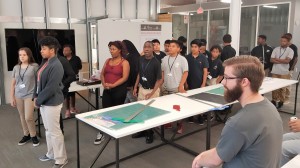 All scholars also got to participate in an interactive building project using a revolutionary design philosophy that requires very few tools.  The system used specially cut wooden pieces that interlock and then can be secured with zip ties.
Working in teams,  Clemson students led the assembly of the pre-cut peices. The students helped identify necessary pieces, figure out how they fit together, and finally secure them with zip ties.  Thirty minutes later, scholars examined their two rooms put together without a single hand tools.
In the debrief discussion, students vocalized many lessons learned, including the importance of sketching for designers,  the value of different types of drawings, and the importance of creating technical documentation and instructions for the end user.  Before exiting the scholars deconstructed the rooms in a mater of minutes and returning the pieces to their original locations.
Thanks to all that made this amazing work-based learning opportunity possible for scholars from Morningside Middle School!
---