Students from St. James Santee School Enjoy Guest Teacher from Jack Russell Coding School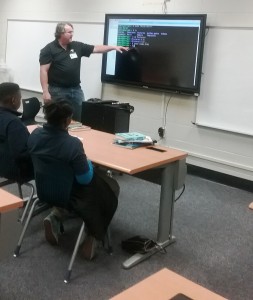 Students from St. James Santee Elementary/Middle School in McClellanville enjoyed a special guest lecturer recently from the Jack Russell Software Coding School in Mt. Pleasant.
Tom Wilson, Founder & Lead Instructor from JRS Coding School encouraged students to learn by experimenting as he introduced a variety of tips and tricks for basic programming.
Using tools from the coding school, Mr. Wilson was able to introduce the foundational principals of coding, and demonstrate the power of being able to tailor a program for a specific project or purpose.
The students truly enjoyed the interactive lessons. "Every single student was inspired by the coding lesson Mr. Wilson shared, and ready to learn more", said Ms. Lisa Farmer, the Career Specialist that helped organize the guest speaker's visit to the school.