Charleston, SC – March 4, 2016 – Hundreds of students from throughout the Charleston region were invited to visit the Medical University of South Carolina for an event called "Discover MUSC – from Classroom to Career".

The students were treated to an opening informational session, a large career fair with interactive exhibits and professionals from well known and lesser known components of MUSC's "city within a city."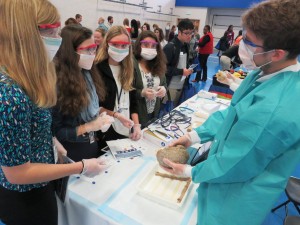 "My students loved the hands-on opportunities to see things like a real human brain and spinal cord, and my students also enjoyed learning about the diverse range of non-medical professions MUSC needs to serve our community," said Lucia Watson, Health Science Instructor a Garrett Academy of Technology.
Participating CCSD schools included:
Wando HS
West Ashley HS
Lincoln MHS
Garrett Academy of Technology
Burke HS
After the career fair held in the MUSC Wellness Center gym, the students were split into small groups with an MUSC student guide and treated to a campus tour followed by a lunch and learn session with leading physicians. One presentation was on modern dentistry and the amazing tools and software used at MUSC to create same day crowns and veneers. Another presentation was on the fast growing field of tele-medicine, providing healthcare remotely in real-time.
To conclude the terrific day of experiential learning, students participated in a wrap-up session and had the chance to win prize packages full of MUSC swag.
The day was truly an ideal experience for students considering a profession in health care and the many other supporting career pathways at MUSC.
Thanks to the many generous professionals at MUSC for investing their time in local students, and thanks to the Metro Chamber of Commerce Regional Health Advisory Board for Career Academies for their important role in facilitating the event.