Fashion Design Students from School of the Arts Get "Hand's On" at Vapor Apparel
Fashion's Future is in Creative Hands
Thursday, March 3, 2016 – Historic Navy Yard, North Charleston, SC: The future of fashion is digital. While historical design and decorating processes will continue to be used, it is digital technologies and just-in-time printing that are the fastest growing parts of fashion today.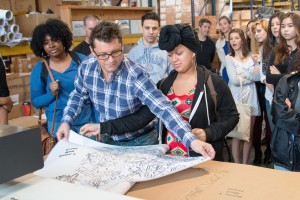 These technologies were on display for Caroline Baker's costume and fashion design class from the Charleston County School of the Arts. She brought her high school students to spend the morning learning about the business of fashion at Vapor Apparel. "We had a real world conversation about how innovation and clothing design connect to create profit." says Christopher Bernat, co-founder and Chief Revenue Officer at Vapor Apparel. "It was great to help the students make the connection to real business applications and their skill sets."
The students spent time talking about trends in the business of clothing. One of the dominant themes was the exponential growth in online sales and mass customization of creative contents to maximize revenue. After round-table discussions, the students were given hands on access to many of today's digital print platforms including sublimation and direct-to-garment printing for cotton. The students got a lesson in the science of the technologies they were seeing in action.
"Our students were introduced to the "wow factor" of digital textile production today," says SOA Instructor Caroline Baker. "Nothing gets young creatives excited like a hand's on experience in a dynamic company."
"It is a privilege to share digital printing and sublimation technology with these great students, many of them for the first time." Says Todd Hirshman, Art Director at Vapor Apparel. He went on to say that Vapor Apparel is committed to the development of these skills here in the Low Country and looks forward to working with the School of the Arts and other educational institutions in the area.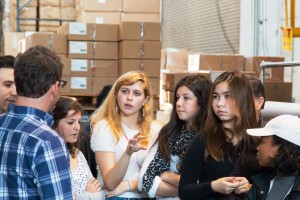 Founded in Charleston, South Carolina in 2004, Vapor Apparel is the industry leader in customizable performance apparel. The company is head quartered in Charleston, SC with manufacturing operations in Union, SC. Vapor Apparel is recognized by the Specialty Graphic Imaging Association (SGIA), Impressions Magazine, Wearables magazine, and the Advertising Specialty Institute (ASI) for award winning product development, print quality and a commitment to innovation in the apparel industry.
Story by Christopher Bernat with Vapor Apparel