Garrett Academy Welcomes Principal for a Day: Capt. Marvin L. Jones
This week, leaders from throughout the Charleston area are spending "A day in the life" of a Lowcountry school principal, thanks to the Charleston Metro Chamber's Principal for a Day initiative.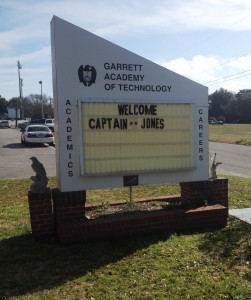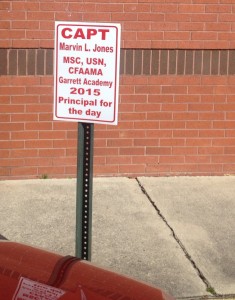 Garrett Academy of Technology's assigned principal for the day was Captain Marvin L. Jones, MSC, USN,  who has been the commanding officer of the Naval Health Cli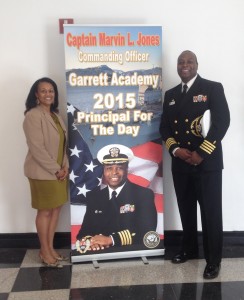 nic Charleston since September 2013.
When captain Jones arrived to Garrett Academy, he saw his name on the school sign and his own parking spot designated by a special sign!  In the school's front lobby a large color sign custom designed by Mr. Butler's Digital Arts & Design class welcomed him to the school.
Captain Jones shadowed Garrett Academy principal Charity Summers today and saw first hand how the school operates.
New this year for the chamber's Principal for a Day program is the opportunity for the principals to return the favor – principals will be shadowing their assigned community leader this summer at their place of business.
This wonderful program is structured to foster and sustain important relationships between schools and the key decision makers in the community.