USA Today Nominates North Charleston HS Digital Arts and Design Teacher for National Award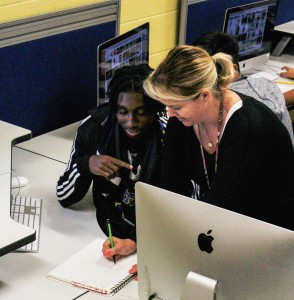 Congratulations to Ms. Cory McBee, Digital Art and Design Instructor at North Charleston High School on her nomination in the "Makers in the USA: Best Arts & Crafts" contest in USA Today!
Makers in the USA: Best Arts & Crafts
The American maker culture was built on a foundation of traditional arts and crafts. These 20 makers, hand-selected by a panel of experts in the maker movement, celebrate art and creativity through thoughtfully designed (and often handmade) items ranging from letterpress paper goods to up-cycled sculpture. Vote for your favorite arts and crafts maker in the USA once per day until voting ends on Monday, October 23 at noon ET. The top 10 winners will be announced on Friday, October 27. READ MORE & VOTE HERE
---
The nomination for Ms. McBee's artistic work outside the classroom has been the talk of the school, and her students are voting daily in support of their teacher's national recognition.
"Students have really gotten into the spirit of the contest, but more importantly, the whole thing has sparked some terrific conversations about the career opportunities for professionals with Digital Arts & Design certifications and college degrees", said Ms. McBee.
"It was so flattering to be recognized for my work outside school, but my passion continues to be my amazing students at North Charleston High School", McBee added.
To learn more about Ms. McBee's artistic work, check out Modern South Studio here: https://modernsouthstudio.com