Wando HS Entrepreneurship Teacher Named 2015 YEScarolina Teacher of the Year
Congratulations to Ms. Courtney Worley, an entrepreneurship teacher at Wando High School, on being chosen as the Teacher of the Year by YEScarolina, a local nonprofit dedicated to training teachers how to teach entrepreneurship.
Seven of Ms. Worley's students competed in the 2015 YEScarolina Regional & Statewide Business Plan Competitions. One of her students, Connor Simonson took first place at both competitions, advancing him to the upcoming NFTE National Challenge in New York.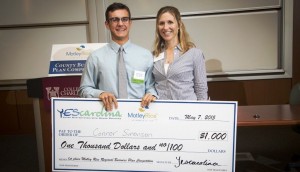 Connor graduated in June and  has moved on to college, but he often talks about his respect for Ms. Courtney, and all the hard work she put into help him succeed.
During a recent video conference session with Mrs. Worley's current students, Connor surprised his teacher with the news she had been chosen as the 2015 YEScarolina Teacher of the Year!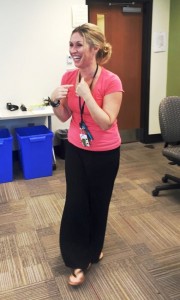 Ms. Worley will be presented her award and recognized during the upcoming YEScarolina Gala event, October 22nd at the new Gaillard Complex. This prestigious award recognizes the teacher who has instilled in their students not only the lessons in the textbooks, but also a genuine appreciation and passion for entrepreneurship.
YEScarolina is the program partner for the national organization, Network for Teaching Entrepreneurship (NFTE), in South Carolina.
Molly Crete with YEScarolina contributed to this story and provided the pictures.