Zucker Middle School Students Practice Professional Skills through Special Breast Cancer Awareness Project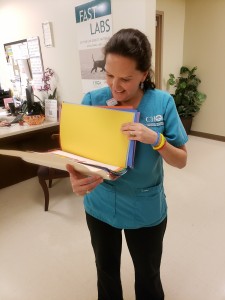 Students at Zucker Middle School learned about Breast Cancer Awareness throughout the month of October. They completed a special display for their classroom door and worked in groups to research and discuss the disease.
Using Google Slides, each small group shared what they learned from their research. This project-based learning opportunity allowed the students to practice healthy teamwork and communication, and sharpened their presentation skills.
To complete the experience, students designed cards with individual messages written to breast cancer patients. Their teacher, Mrs. Kylene Gerideau-Grant delivered all the cards to Roper St. Francis' Charleston Hematology & Oncology Associates offices in West Ashley. The head nurse was touched by the kind gesture and the messages from the students. She also remarked on the students' design abilities.  She promised to ensure their patients will receive the cards to aid in lifting their spirits.
Thanks to everyone that helped make this rich experience possible for our students!