R. B. Stall HS Students Complete New Employee Training for Workforce Academy Program at Palmetto Goodwill

August 14, 2015 – North Charleston, SC – A new partnership between Palmetto Goodwill and R. B. Stall High School called Workforce Academy is offering students the opportunity to earn their diploma AND an hourly wage at the same time!
Each of the 14 students in the first cohort of the Workforce Academy program have a unique class schedule. Some will go to school and work at Goodwill on alternate days, and some will work after school hours.
Each participating student will earn high school work-based learning credit and a paycheck from their employer, Palmetto Goodwill.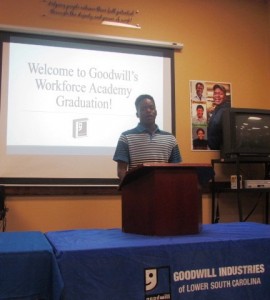 With every job comes certain requirements for new employees – Goodwill held their new employee orientation & career skills training class from August 4-14 for the participating students.
Enjoy these pictures from the ceremony held Friday August 14 at the Goodwill Training Center on Rivers Ave – the students enjoyed pizza and cake after the ceremony that was also attended by many of their high school teachers.
We could not be more proud of these students' achievements, and their commitment to completing this important training prior to the start of the school year.  Thanks to Palmetto Goodwill and the administrative leadership at R. B. Stall High School for their dedication to making this personalized learning opportunity possible for these students!