Boeing SC Engineers Bring Aero Modeling Project to Wando HS Engineering Camp
The 11th annual Wando Gateway Engineering Camp was led by engineering instructor David Roemer this summer at Wando High School.
This special week long hands-on camp is designed to be an introduction to engineering for female students entering the 9th grade.
This year's camp included a new project-based learning opportunity to work side by side with engineers from Boeing SC.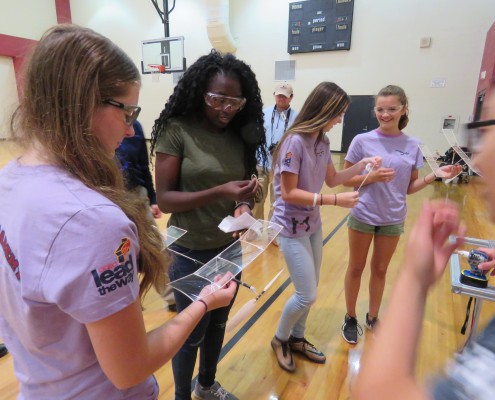 Campers built and tested lightweight gliders before participating in the competition to see which model would fly the longest.
Check out this excellent article on the camp published in the Moultrie News: http://www.moultrienews.com/news/engineering-camp-allows-students-to-make-small-planes-fly/article_7f14cc58-6c9c-11e7-ae92-e395f6a8c945.html
Boeing also sent their own video production crew to document the camp and the flying competition. Check out their wonderful video here via Facebook:  https://www.facebook.com/WeAreBoeingSC/videos/779368265602327/
Huge thanks to the team of Boeing SC engineers led by Branko Lakic for investing their passion, time and talent in this amazing project-based learning opportunity for Charleston County School District students!