R. B. Stall FIRST Robotics Team Competes in Palmetto Regional FRC
"From January 3rd until February 17th, students on FIRST Robotics Team 4243 met Monday through Thursday, and all day on Saturday to take a tote of scraps and transform it into a recycling machine!", said Mrs. Kimberly Pickett, FIRST Robotics adviser at R. B. Stall HS. This year, Team 4243 finished 27th out of 66 teams at the Palmetto Regional FRC held recently in Myrtle Beach.
"The work that goes into this sport, is not just physically putting together a couple of pieces of metal, but designing, programming, analyzing, and developing strategies to compete both competitively and collaboratively with other teams from around the world. I could not be more proud of all their hard work and dedication!" Mrs. Pickett added.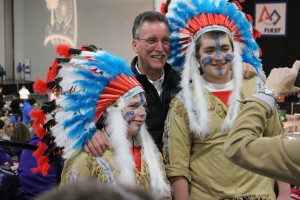 Some team members dressed up as Warriors, the school mascot and others waived the school flag in support of the team – School principal Mr. Kim Wilson also attended the event to cheer on the students.
The following students represented R. B. Stall HS in the recent Palmetto Regional FRC tournament: Priscilla Castillo, Ian Cole,  Maribel Garcia, Roseller Garcia,  Steven Iorio,  Rebeca Lomeli,  Ignacio Lopez, Danielle Newsome, Estefani Paredes,  Paul Thieman, Alex Tsai,  Nicholas Waring,  Frederick Wright, and Tay Young.
Team Members who did not go to Myrtle Beach but worked very hard this season include: Ariel Acierto, Melvin Garcia, and Orenthal Green.