WAHS Robotics Takes 1st Place in VEX Competition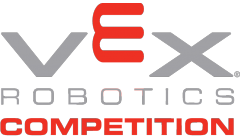 24 teams from throughout the state competed in the Oct. 24, 2015 VEX Robotics Qualifier – "The Cougar Challenge" at Lady's Island Middle School in Beaufort, SC, but just one team left with the FIRST PLACE TROPHY: West Ashley High School's VEX Robotics team led by their advisor Mr. Nicholas Holmes.
Congratulations to the WAHS Wildcats robotics team on their victory, and earning the opportunity to compete in the Palmetto State Championship this spring.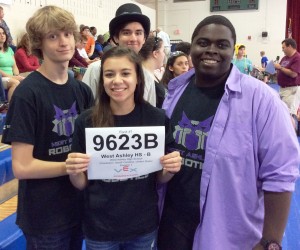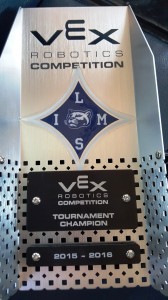 Below is the list of teams that competed in the event – for the final results click here. 
| Team | Team Name | Organization | Location |
| --- | --- | --- | --- |
| 120E | Green & Gold Robotics | Spring Valley High School | Columbia, South Carolina, United States |
| 916A | Bobcats | Center for Advanced Technical Studies | Chapin, South Carolina, United States |
| 916B | IronCATS | Center for Advanced Technical Studies | Chapin, South Carolina, United States |
| 2533A | Robotic Engineers | Dutch Fork Middle School | Irmo, South Carolina, United States |
| 2533B | Auto Robots | Dutch Fork Middle School | Irmo, South Carolina, United States |
| 6318 | Cougars | Lady's Island Middle School | Beaufort, South Carolina, United States |
| 6318B | Cougar Robotics | Lady's Island Middle School | Beaufort, South Carolina, United States |
| 6318C | Cougar Assassins | Lady's Island Middle School | Beaufort, South Carolina, United States |
| 7432 | M.T. Brains | Dutch Fork High School | Irmo, South Carolina, United States |
| 8624 | CVK (Complex VEX Kids) | Bluffton Middle School | Bluffton, South Carolina, United States |
| 8659G | Binary Bots | Goose Creek High | GOOSE CREEK, South Carolina, United States |
| 8659H | Deez Nuts and Bolts | Goose Creek High | GOOSE CREEK, South Carolina, United States |
| 8926 | Combined IQ | Oakbrook Preparatory School | Spartanburg, South Carolina, United States |
| 9118 | Orcas | Whale Branch Middle School | Seabrook, South Carolina, United States |
| 9118B | Orcas | Whale Branch Middle School | Seabrook, South Carolina, United States |
| 9168A | Bimbots | Bluffton High School | Bluffton, South Carolina, United States |
| 9168B | Bluffton High School | Bluffton High School | Bluffton, South Carolina, United States |
| 9447A | Team Toss Up | Palmetto Scholars Academy | North Charleston, South Carolina, United States |
| 9447B | Knights Who Say Ni | Palmetto Scholars Academy | North Charleston, South Carolina, United States |
| 9447C | Millennium Robotics | Palmetto Scholars Academy | North Charleston, South Carolina, United States |
| 9447D | Phoenix Uprising | Palmetto Scholars Academy | North Charleston, South Carolina, United States |
| 9447E | Phoenix Rebellion | Palmetto Scholars Academy | North Charleston, South Carolina, United States |
| 9623A | West Ashley HS | West Ashley High School | Charleston, South Carolina, United States |
| 9623B | West Ashley HS – B | West Ashley High School | Charleston, South Carolina, United States |